Main content starts here, tab to start navigating
Please call for our Daily Specials!
Please note: Some menu items may be substituted with comparable items based on business demand + availability. Below are the items you can likely find on our daily menu from day-to-day!
TODAY'S MENU | 01.27.22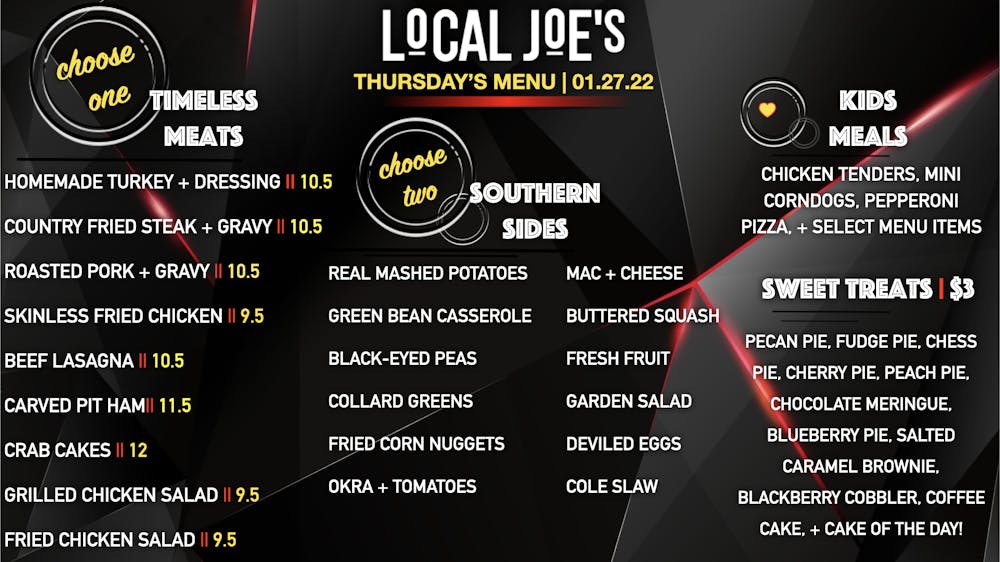 Entree Salads + Daily Sides
Grilled Chicken Salad

Tender Grilled Chicken Breast, Mixed Greens, Feta Cheese, Dried Cranberries, Pecans, + Tomatoes

Fried Chicken Salad

Crispy Chicken Tenders, Mixed Greens, Dried Cranberries, Pecans, Tomatoes, + A Blend of Cheeses

Southern Coleslaw

Cucumbers + Onions

Deviled Eggs

Mixed Fruit
Kids Menu
Each Meal Will Come with Choice of One (1) Side + Drink
Chicken Tenders

Corndog Nuggets

Cheese or Pepperoni Pizza

Select Menu Items

Kids Veggie Plate (2)
Treat Yourself
The best things in life are... $3.29 :)
Homemade Banana Pudding

Blackberry Cobbler

Fudge Pie

Chocolate Meringue Pie

Chess Pie

Pecan Pie

Coconut Meringue Pie

Peach Pie

Cherry Pie

Cake of the Day

Coffee Cake

Blueberry Pie
Catering Menu
We cater breakfast, lunch & dinner, holidays, weekends and really anytime! With well over 20 years of catering experience, we offer buffet, full service, and drop-off catering services. We'll assist with the menu and party planning.
The following prices include meat, two sides, and bread. Additional sides $ 2.00 each
Download PDF
$10 Per Person

⚬Baked Chicken ⚬Turkey & Dressing ⚬Baked Ham ⚬Roasted Chicken Quarters ⚬Mushroom Pork Chops ⚬Slow-Roasted Pork & Gravy ⚬Pulled Pork Bar B Q ⚬Baked Steak & Gravy ⚬Skinless Fried Chicken ⚬Bar B Q Chicken ⚬Chicken & Dumplings ⚬Chopped Steak & Sauteed Onions ⚬Chicken Tenders ⚬Ranchero Chicken ⚬Homemade Spaghetti

$11 Per Person

⚬Oven Roasted Chicken Half ⚬Baked Lasagna ⚬Chicken Cordon Bleu ⚬Teriyaki Chicken & Rice ⚬Chicken & Spinach Lasagna ⚬Homemade Meatloaf ⚬Baby Back Ribs 1/3 rack ⚬Chicken Parmesan ⚬Spinach & Cheese Ravioli ⚬Teriyaki Pork Shanks

$15 Per Person

⚬Tender Prime Rib ⚬ Slow-Cooked Pot Roast ⚬Texas Brisket ⚬ Baby Back Ribs (half rack) ⚬Teriyaki Pork Tenderloin ⚬Grilled Gulf Tiger Shrimp ⚬Crab-Stuffed Flounder ⚬Carving Station with Pit Ham or Roasted Turkey Breast ⚬Greek-Style Grouper ⚬Parmesan Crusted Tilapia ⚬Pecan Crusted Tilapia

Vegetables, Sides and Accompaniments

Southern Sides

⚬Real Mashed Potatoes ⚬Southern Green Beans ⚬Macaroni and Cheese ⚬Shoepeg Corn ⚬Cinnamon Apples ⚬Cornbread Dressing ⚬Sweet Potato Casserole ⚬Squash Casserole ⚬Hash Brown Casserole ⚬Sweet Baby Carrots ⚬Turnip Greens ⚬California Blend Vegetables ⚬Broccoli Florets ⚬Potato Salad ⚬Pinto Beans ⚬Cole Slaw ⚬Twice Baked Potatoes, Garden Salad, Sweet English Peas, Broccoli & Rice Casserole, Baby Lima Beans, Green Bean Casserole ⚬Seasoned Rice ⚬Corn On The Cob ⚬Fried Corn ⚬Baked Sweet Potato ⚬Roasted Red Potatoes ⚬White Cheddar Grits

Add a Sweet Treat | $3.25 Per Person

⚬Fudge Pie ⚬Chess Pie ⚬Pecan Pie ⚬Cherry Pie ⚬Peach-Blackberry-Cherry Cobbler ⚬Homemade Banana Pudding ⚬Oreo cookie Cake ⚬Ooey Gooey Cake ⚬Red Velvet Cake ⚬Earthquake Cake ⚬Lemon or Strawberry Cake ⚬Strawberry Shortcake ⚬Yellow Cake & Chocolate icing ⚬Homemade Carrot Cake ⚬Coca Cola Cake

Beverages | $2.50 Per Person

Southern Sweetened Tea & Unsweetened Tea, Lemonade or Fruit Tea

per person $2.50