Main content starts here, tab to start navigating
Please call for our Daily Specials!
Please note: Some menu items may be substituted with comparable items based on business demand + availability. Below are the items you can likely find on our daily menu from day-to-day!
Today's Menu | 03.04.21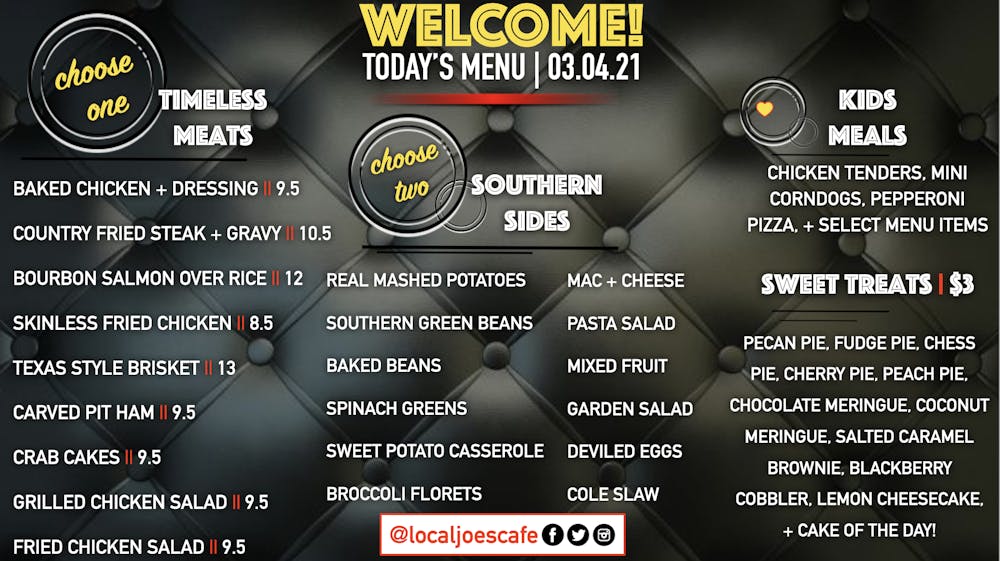 Entree Salads + Daily Sides
Grilled Chicken Salad

Tender Grilled Chicken Breast, Mixed Greens, Feta Cheese, Dried Cranberries, Pecans, + Tomatoes

Fried Chicken Salad

Crispy Chicken Tenders, Mixed Greens, Bell Peppers, Apples, Tomatoes, + A Blend of Cheeses

Southern Coleslaw

Orzo + Wild Rice Salad

Cucumbers + Onions

Deviled Eggs
Kids Menu
Each Meal Will Come with Choice of One (1) Side + Drink
Chicken Tenders

Corndog Nuggets

Cheese or Pepperoni Pizza

Select Menu Items
Treat Yourself
The best things in life are... $3.29 :)
Homemade Banana Pudding

Blackberry Cobbler

Fudge Pie

Chocolate Meringue Pie

Chess Pie

Pecan Pie

Peanut Butter Pie

Coconut Meringue Pie

Peach Pie

Cherry Pie
Catering Menu
We cater breakfast, lunch & dinner, holidays, weekends and really anytime! With well over 20 years of catering experience, we offer buffet, full service, and drop-off catering services. We'll assist with the menu and party planning.
The following prices include meat, two sides, and bread. Additional sides $ 2.00 each
⚬Baked Chicken ⚬Slow-Cooked Pot Roast ⚬Turkey & Dressing ⚬Baked Ham ⚬Roasted Chicken Quarters ⚬Mushroom Pork Chops ⚬Slow-Roasted Pork & Gravy ⚬Pulled Pork Bar B Q ⚬Baked Steak & Gravy ⚬Skinless Fried Chicken ⚬Bar B Q Chicken ⚬Chicken & Dumplings ⚬Chopped Steak & Sauteed Onions ⚬Chicken Tenders ⚬Ranchero Chicken ⚬Homemade Spaghetti

Per Person $10

⚬Oven Roasted Chicken Half ⚬Baked Lasagna ⚬Chicken Cordon Bleu ⚬Teriyaki Chicken & Rice ⚬Chicken & Spinach Lasagna ⚬Homemade Meatloaf ⚬Baby Back Ribs 1/3 rack ⚬Chicken Parmesan ⚬Spinach & Cheese Ravioli ⚬Teriyaki Pork Shanks

Per person $11

⚬Tender Prime Rib ⚬Texas Brisket ⚬Baby Back Ribs (half rack) ⚬Teriyaki Pork Tenderloin ⚬Grilled Gulf Tiger Shrimp ⚬Crab-Stuffed Flounder ⚬Carving Station with Pit Ham or Roasted Turkey Breast ⚬Greek-Style Grouper ⚬Parmesan Crusted Tilapia ⚬Pecan Crusted Tilapia

Per person $15

Vegetables, Sides and Accompaniments

⚬Real Mashed Potatoes ⚬Southern Green Beans ⚬Macaroni and Cheese ⚬Shoepeg Corn ⚬Cinnamon Apples ⚬Cornbread Dressing ⚬Sweet Potato Casserole ⚬Squash Casserole ⚬Hash Brown Casserole ⚬Sweet Baby Carrots ⚬Turnip Greens ⚬California Blend Vegetables ⚬Broccoli Florets ⚬Potato Salad ⚬Pinto Beans ⚬Cole Slaw ⚬Twice Baked Potatoes, Garden Salad, Sweet English Peas, Broccoli & Rice Casserole, Baby Lima Beans, Green Bean Casserole ⚬Seasoned Rice ⚬Corn On The Cob ⚬Fried Corn ⚬Baked Sweet Potato ⚬Roasted Red Potatoes ⚬White Cheddar Grits

And for Dessert - per person $3

⚬Fudge Pie ⚬Chess Pie ⚬Pecan Pie ⚬Cherry Pie ⚬Peach-Blackberry-Cherry Cobbler ⚬Homemade Banana Pudding ⚬Oreo cookie Cake ⚬Ooey Gooey Cake ⚬Red Velvet Cake ⚬Earthquake Cake ⚬Lemon or Strawberry Cake ⚬Strawberry Shortcake ⚬Yellow Cake & Chocolate icing ⚬Homemade Carrot Cake ⚬Coca Cola Cake

Southern Sweetened Tea & Unsweetened Tea, Lemonade or Fruit Tea

per person $2.50